Veterans Day is a day to honor those who have served in the military. This day is celebrated on November 11th annually. According to the U.S. Department of Veterans Affairs, the military tradition started during World War I, when President Woodrow Wilson proclaimed Armistice Day in honor of all Americans who died in the war.
We know that veterans are often given gifts as a token of appreciation for their service and sacrifice on Veteran's Day, but what should you give them? For those who love to give unique gifts on Veteran's Day, the best choice is a military-themed sword. Military-themed swords make great presents from the U.S. Army to the U.S. Navy. Choose from full-sized military swords, including the 1860 Light Cavalry Saber Sword, which is perfect for veterans. Or, you can choose from traditional gift ideas such as an officer saber or an NCO sword.
1860 Light Cavalry Sword Saber
If you're looking for a unique gift for your veteran, you may consider giving them an 1860 Light Cavalry Sword Saber. This unique sword is made from high carbon steel, perfect for close-quarters combat, and has a long history. You can buy it online from the Swords Kingdom for giving as a Veteran's Day 2022 Gift. The perfect gift for any veteran is to honor their service and remember the history of the military.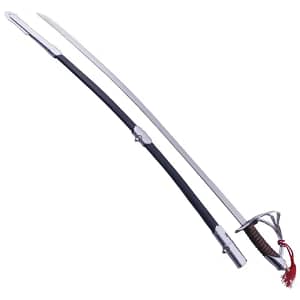 The name "Cavalry" comes from the French word "cavalerie," which means an important army component. The 1860 Replica Light Cavalry Saber Sword blade is approximately 30 inches long and one inch thick and is made for cutting. It is also covered with a large bowl-shaped guard, which protects the hands of the sailor. Despite the 1860 US Saber Sword's historical significance, this sword is not in service today.
M1850 Field Officers Military Sword
If you want to give a special gift to a veteran on Veterans Day in 2022, consider a rare M1850 Field Officers Military Sword. U.S. soldiers and sailors used this sword during the American Civil War. Later, the field officer's replica military swords were carried on U.S. Navy ships during the Spanish-American War and World War I. U.S. Navy gunboats were also used in the Philippines and China from 1898 to 1930. Many of these swords exist today, including the 1860 model on the USS Constitution in Boston Harbor.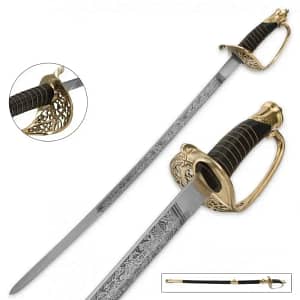 The dagger remained popular after the Revolutionary War. U.S. Navy soldiers still used it during the Civil War. Some accounts indicate that the cutlass continued to be used during this period, and photos show gun crews carrying one as a side arm. The saber's presence was widespread in the American military during the Revolution. Its use is also documented in the U.S. Army's Battlefield Survival Guide, which shows that it is still used today.
Conclusion:
Other than the 1860 Saber Light Sword & M1850 Field Officers Military Sword, we have a wide range of High-Quality Military Swords that you can gift to veterans or purchase for yourself. Other than these, you can find Video Game Swords, Anime Swords, Movie & TV Swords, Belly Dance Swords, and many other categories on the Swords Kingdom.